Absolutely abysmal! I promised these good people timely posts on their National Eat Dessert First Month entries, and then went ahead and landed myself in a place with as much internet access as Andromeda. Nice going, Ala. *virtual fail high five*
Anyway, here's a recap of all the lovely national dessert days that have passed us by:
August 24th: National Peach Pie Day (kueken23 & Amanda)
August 25th: National Banana Split Day (Alicia)
August 26th: National Cherry Popsicle Day (Bob)
For the recipes and mouth-watering photos, take the jump!
NATIONAL PEACH PIE DAY (AUGUST 24th)
Entry #1: Courtesy of kueken23
Original post: here
Flour-free peach cheesecake
I'm not so much a fan of any cake that includes too much of a crust, which is why I've decided to cheat a bit and make a flour free peach cheesecake. It's really easy and really tasty!
I unfortunately forgot to take pictures while making the cake as I was chatting to my flatmate… so much for distraction. But at least I have pics of the final product!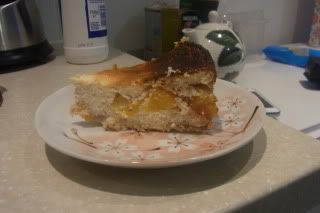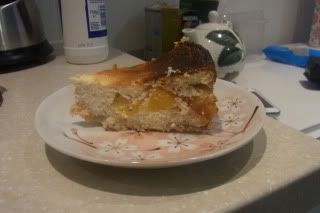 Here's the recipe (adopted and changed from a German website):
300 g Greek yoghurt
200 g peach flavoured yoghurt
100 g sugar
40 g semolina
40 g grated coconuts
2 eggs
Baking powder
1 peach and 1 nectarine
Cookies
Oil
Separate the eggs and beat the whites until stiff.
In a separate bowl, mix together the Greek yoghurt, peach flavoured yoghurt, sugar, semolina, egg yolks, grated coconuts and semolina. You might need a bit more or less of the semolina, in general, the mixture shouldn't be too runny.
Cut the peach and nectarine into pieces and mix them in as well. Finally, carefully mix in the beaten whites of the eggs.
Fatten a baking form with oil and put cookies (I've used simple butter cookies covered with chocolate) on the bottom of the form (cookies are optional, though!). Pour in the mixture and put it in the oven at 200 C for 45 min. The temperature can depend on your oven, though (I've used a hot air or convection oven). If you think the top of the cake becomes a bit too dark, lower the temperature. Insert a chopstick in the middle of the cake to test whether it's done (it's done when nothing sticks to the chopstick).
You could top the cake with some fruit sauce or chocolate, whatever you prefer.
Eat warm or cold.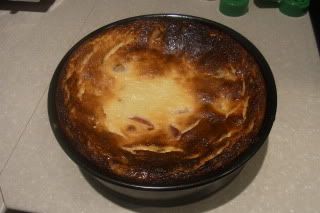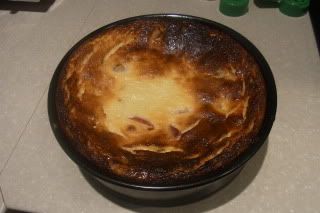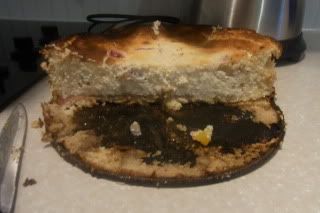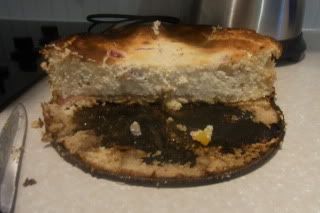 Entry #2:
Courtesy of: echoinautumn
Original post: here
I've been eating this pie since I was knee-high to a grasshopper. It's creamy, peachy, delicious with vanilla ice cream or whipped cream, and it's my grandmother's peach pie.
To hear her tell it, my Granny got married without ever learning how to cook. Everything she learned to make was either gently imparted upon her by her mother-in-law, learned from other women in her church, or picked up through trial and error. By the time my sisters and I were born, her cooking had reached a point that it is now one of the most nostalgic things I can think of. I have deeply fond memories of her chicken casserole, and this pie. Which I will now share with you, in honor of eating dessert first!
Unlike many of the peach pies I've seen elsewhere, this is a custard pie with peaches in it. My Granny used pre-made pie crusts, though I use the Fannie Farmer pie crust formula (found here). Fresh peaches really make this pie what it is, an easy, summery pie, but both my Granny and I have used frozen to great results. Feel free to adapt this recipe as you see fit–I imagine that, in true spirit of my home state of Kentucky, a bit of bourbon would make a fine replacement for the vanilla!
Ingredients:
1 unbaked 9-inch pastry shell
5 cups sliced fresh peaches
1/3 cup butter melted
1 cup sugar
1/3 cup all purpose flour
2 eggs
vanilla
nutmeg
Directions:
1. Arrange peaches in pastry shell so they are evenly distributed
2. Combine all remaining ingredients and pour over peaches
3. Bake at 350 degrees for 1 hour and 10 minutes, until pie is set.
4. Allow to cool and firm up before slicing. Serve with whipped cream or vanilla ice cream.
NATIONAL BANANA SPLIT DAY (AUGUST 25th)
Entry courtesy of: Alicia
Summer's at its best/worst this side of the world, so an excuse to indulge in one of my favorite desserts as a kid and a teenager was more than welcome.  A pleasantly surprising vanilla bean ice cream I bought to taste good and look great in pictures was a key ingredient, as was a blueberry/pommegranate jam, chocolate syrup and powdered white chocolate.  With fresh berries out of season, a frozen strawberry had to do as garnish, but the end result was so good I'm glad I have these pictures to remember it by.
NATIONAL CHERRY POPSICLE DAY (AUGUST 26th)
So Seattle is a funny place summer ends in mid August, it's already in
the 60s dreary and rainy, but its okay!
What do we do go into denial and make the most of the best of Seattle
Cherries and make Cherry Lime yogurt popsicles and pretend its back in
the 90s and sunny.
Based off of http://food-4tots.com/2010/08/13/cherry-yogurt-popsicles/2/
For cherry puree:
250g cherries (pits removed and cut into pieces)
2 tbsp honey (Changed to 2 for extra sweetness and sunshine)
2 tsp lime juice (Changed to 2 for extra lime flavor)
For yogurt mixture:
180g (3/4 cup) Greek-style yogurt vanilla
1/8 cup fresh milk
2 tbsp honey (Changed to 2 for extra sweetness and sunshine)
2 tsp lime juice (Changed to 2 for extra lime flavor)
Methods (for normal pops):
Place cherries in a blender and puree. Pass through a fine sieve into a measuring cup . (You should have ¾ cup puree, I skipped this step because I wanted it a bit chunkier).

Add cherry puree and the rest of the ingredients into the blender and blend until smooth. Add extra honey if needed.

Pour into the moulds and freeze at least 8 hours or overnight, until the popsicles solidify. If your moulds don't come with their own
sticks, insert wooden popsicle sticks after 1 hour of freezing.

Run the moulds under tap/ warm water and gently wiggle the sticks to free the popsicles from the moulds.